This webpage is viewed best when using Google or Mozilla Firefox.


Welcome To Moonlight Grahams Marketplace – The Place for all your Strat-O-Matic Needs.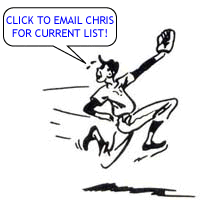 The 2019 Team List has (so far) over 182 pages of Strat-O-Matic Baseball, Basketball, Football & Hockey Sets & Teams.  The List also has a small sampling of other popular and unique Sports Games.  Because The List is always changing it cannot be down loaded from this web page.  You will need to Email me for the latest copy.  Just Click on the Ball Player or email me and ask for a copy at  Moonlightgraham@moonlightgrahamsmarketplace.com.  I'll be glad to email one to you.  I also have a Huge Assortment of Individual SOM Baseball Cards.  The Loose Card Database is currently holding a shade over 157,800 Cards.  I also offer additional items to enhance your playing enjoyment so…take a look below and email me for a copy of my Current List.
I am always in the market to acquire Strat-O-Matic.  If you have Strat-O-Matic to sell or trade you can contact me through email or call.
♦♦♦♦♦♦♦♦♦
Something Special
A Gaming Case
This hand made case is built using the highest quality Baltic Birch and comes complete with Brass hinges, chrome clasps, a solid molded folding carry handle and weighs approximately 6 lbs.  The inside of the case is lined with a durable Wool-Felt "Grassy Meadows" Lining.  The size of this case allows the owner to carry a complete SOM Baseball season and more.  It is the ultimate case to carry and play any sports game at any time.
Email Me For A Detailed Flyer
Something Classic
A Dice Tower
This handmade Dice Tower is designed as a companion for the Game Case. The Tower is designed to slide snugly over the edge of the Game Case so that the dice roll into the case.  It fits in the case for storage and is made of the same quality material as the Game Case.  (Tower Size 8 3/8 x 4 x 3 7/16)  Also available is a separate drop tray if you wish to use it outside the Game Case as a Stand-Alone Dice Tower.

Email Me For A Detailed Flyer
Something Different
A Card Rack Set

You are looking at a set of Card Racks.  The Card Racks are made of ¾ Baltic Birch.  Two Card Rack have 4 slots to hold your Starting Lineup, Backup Players, Bullpen & Starters and Players used during the game.

In addition there is a third Rack to the set.   This Rack is known as the Pitchers Rack. This rack is designed to hold the game pitchers while you play.  The Rack works just like the 4 Slot Card Racks with an added Option.  It is a two-tiered Rack allowing the advanced cards to be raised slightly so you can see all of the cards results when they are long on a column.  The basic card will slot deeper into the rack so it stands more upright.   The Card Racks work well with all Strat-O-Matic Gaming Cards. Racks are sold Separately or as a set of three.

Email Me For A Detailed Flyer 
Something Unique
The Lineup Rack is made of the same fine material as the Game Case and designed to fit in the case for travel.  The Lineup Rack is sold in sets of 2.  Each Rack as 10 slots to hold your line up.  The Card Racks work with well with all Strat-O-Matic Gaming Cards.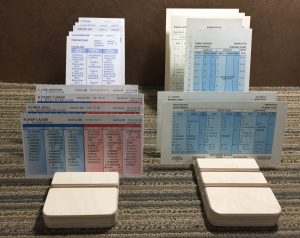 Email Me For A Detailed Flyer.
Something Simple

A Chart Rack
The Chart rack is made of the same fine material as the Game Case and designed to fit in the case for travel.  The Chart Rack works with the Game Case or as a stand-alone.  The Chart Rack is approximately 10 ¾ x 2 ¾ x 1 and designed to hold 2 charts with an optional Acrylic Backing Plate to hold the flimsier charts upright.    Email Me For A Detailed Flyer.

 Scoreboard &
Hand Painted Base Runners 
In Four Colors For The Baseball Board Game.
Email Me For A Detailed Flyer




♠ Free Shipping On Orders Over $200.00 Delivering In The US ♠
(Some items not included in this offer)

♦♦♦♦♦♦♦♦♦


♦ ♦ ♦ NOW AVAILABLE ♦ ♦ ♦
Assorted Game Parts & Accessories
Original Roster Sheets – All Sports.
Original Supplemental Stealing, Ballpark & Weather Effect Charts
Original Early Game Charts, Boards, Pitchers Hitting Cards & Fielding Charts.
(Limited Quantities – Most in Excellent Condition)

♦♦♦♦♦ ♦♦♦♦♦ ♦♦♦♦♦ ♦♦♦♦♦ ♦♦♦♦♦ 

9/16/2019: The Original Baseball & Basketball Sets & Teams from the 1970's are Checked in and added to inventory.

9/16/2019 Next UP: A Large Box (43 Lbs) Of Assorted Baseball Cards.
I have sorted the cards into years.  (1927-1999 with a few years missing from the range).  I will begin to sort each year and see if I can make teams using my Loose Card Database.  I will post below as I check each year in…1st Year Up…1927R.  

Added To Inventory:
Baseball Teams:
9/17/2019: 


Baseball Cards:
9/17/2019

♦♦♦♦♦ ♦♦♦♦♦ ♦♦♦♦♦ ♦♦♦♦♦ ♦♦♦♦♦

BASKETBALL / FOOTBALL / HOCKEY CARDS ►
A small quantity of Assorted Basketball, Football & Hockey Cards are available from various years.  The assortment is primarily Strat-O-Matic issued cards but also includes Strat-Fan Cards.  This assortment is not in the Computer Database but well organized and will have to be hand searched to see what is available.  When inquiring, Please be sure to list Year / Team / Players Name to make the search easier.


STRAT-FAN & SPECIALTY BASEBALL CARD ASSORTMENT ►
Assortment Of Strat-Fan Baseball Cards 1930-1993…List is available for the asking.
Assortment Of Negro League All-Star Cards…List is available for the asking.
Assortment Of Hall Of Fame Cards (2000-2010-2014)…List is available for the asking.
Assortment Of Baseball Hero's Cards (Series 1 & 2)…List is available for the asking.


♦♦♦♦♦♦♦♦♦
STORAGE BOXES ►
It's important that you protect your Strat-O-Matic Card Inventory.  I offer special Storage Boxes with Envelopes to store your cards. The Boxes are designed to hold all the sports offered by Strat-O-Matic.  It's an excellent way to store and protect your cards.


PLASTIC CARD SLEEVES ►
These Clear Plastic Sleeves come in two sizes and are designed to hold 1 card each.  They can be purchased for Baseball, Early Basketball (1972-73 – 1979-80) & The Large Original Old Style Football Cards.  These are great for protecting the cards long term and from wear & tear when you play.


DICE BAGS ►
Soft Genuine Calf Skin Leather Drawstring Pouches to hold your dice and markers.  Each pouch measures 3 x 3 3/4 inches.  Pouches come in 3 colors: Dark Brown, Beige & Tan.


Click on the Ballplayer or email me at Moonlightgraham@moonlightgrahamsmarketplace.com and ask for a copy of the Storage Box, Plastic Sleeve and Dice Bag Flyers.


♦♦♦♦♦♦♦

♦♦
OTHER SPORTS GAMES …Email for Price List ►
Baseball Legends Card Game (Copyright 1991)
Dynasty Baseball (1999 Set)
Golftime Anytime Golf Game (Copyright 1985)
Strat-O-Matic Sports Know How Trivia Game (Copyright 1984)
♦♦♦♦♦♦♦♦♦
Strat-O-Matic Related Links ►
Somworld.com There is no better site for the Strat-O-Matic enthusiast. It's the place to go for all the latest News & SOM information!
Stratomatic Baseball Village If you want to talk Strat-O-Matic Baseball…This is the place to go!
Smada's Old-Time Cigar Box Stadiums Check Out this site…A nostalgic way to play SOM!
Updated: 9/16/2019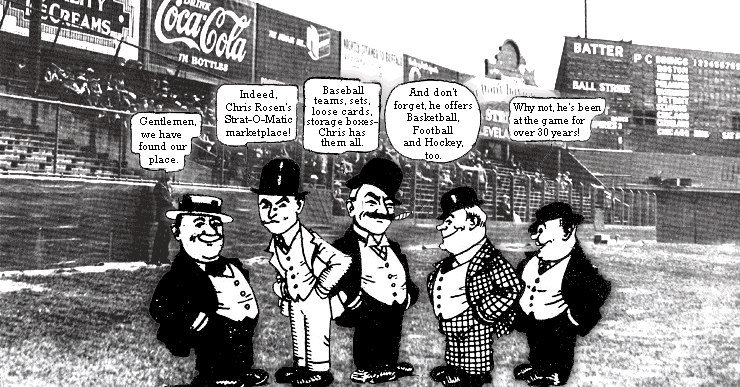 Chris Rosen
731 Bergen Street
Philadelphia PA 19111
215-745-5247
Moonlightgraham@moonlightgrahamsmarketplace.com
Office Hours: Monday-Saturday 10:00 am EST -?